Finished under
the Blossom
September 2022, London
John is pleased to show a glimpse of
Lean, too!
He is happy that the project is now complete and cannot wait to share more of this exciting project soon.
Planning News
November 2021, London
Cristina has submitted the planning application for well considered extensions to a backland house in Bow, East London. She is looking forward to see it approved.
Prototyping Carbon
Negative Concrete
November 2021, London
Myrtille is pleased to be holding this carbon positive aggregate for the
Lean, too!
project. This is the first batch of a unique aggregate that has captured CO2 from industrial processes. A concrete screed has just been poured using this material. She is happy that it is a world first.
Lean Progress
September 2021, London
David and Myrtille are looking up at their excellent work on the
Lean, too!
glulam beams. They are collaborating on finishing this exciting project early in 2022.
Barnet Housing
Granted Planning
July 2021, London
CAB is happy to share the news that planning approval has been granted for Station Road, a 12-unit new-build housing development. CAB is looking forward to building it.
Lean Glulam
Stress Test

July 2021, London
CAB enjoys collaborations with
@fosterstructures
who are sharing stress test results on social media. They are confident about the strength of the timber beams for
Lean, too!
fabricated by
@sebastiancox.
The laminations are made from various tree species representing the past and future of wood in construction.
Planning Submitted
for a 14-unit
housing development

October 2020, London
Planning has been submitted for a 14-unit residential developement in Barnet. A highly insulated, energy efficient building includes a communal air-source heat pump.
Planning Submitted
for Hampstead Twins

September 2020, London
We have submitted proposals for the conversion of twin late-Victorian period terrace houses in the West Hampstead area of Camden. Our plans include the conversion of 2 side-by-side dwelling houses into 9no. self contained apartments.
Listed Building Consent
Granted for London Fields
townhouse

June 2020, London
Our proposals for a Georgian townhouse refurbishment in Hackney has been granted planning. The Grade II listed building, a converted property built in the 1840's, will be restored and brought into a new age with a remodelled interior, and zinc roof. The large voluminous spaces will benefit from internal glazed partitions allowing new light deep into the building.
Planning Granted
for Dalston Rooftop

May 2020, London
A former Victorian butchers shop has been granted planning to help improve the quality of space. The converted property in a conservation area lacked adequate outdoor space for a family. The proposals are to create a fully glazed cube ground floor extension in the yard as well as access to the rooftop.
New CAB website

February 2020,
We are genuinely excited to show you our brand new website. Have a browse through our new project page and see what we've been doing since 2011.
Planning Granted
for Medieval Townhouse
September 2019, France

Planning has been granted for the conversion of a large 366m2 medieval house into three dwellings. Construction is due to start tout de suite.
Completion of Full House
Refurb & Extension
July 2019, London
Completion of full house refurbishment and extension in Hanwell. CAB was appointed for a plans only service completing a feasibility of various extension options up to technical design stage. The scheme won planning for side, rear and roof extensions maximizing development potential. We provided a cost effective site-service, providing support when needed during construction.
Planning Granted for Dalston Zinc Extension
May 2019, London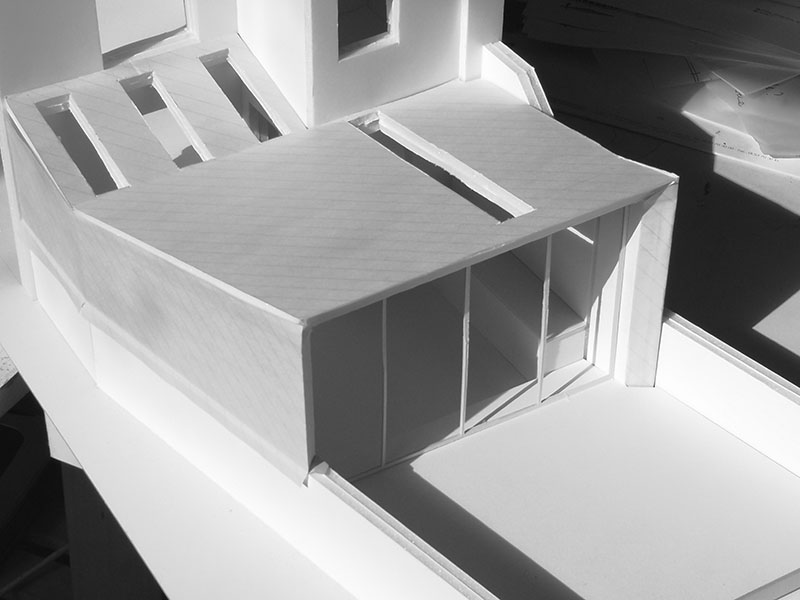 Planning granted for our space-saving design, maximizing every inch of space for this family home in a conservation area of Dalston, Hackney. Working closely with the client we propose a lightweight zinc structure.
Alterations to Olympic Park New-build
September 2018, London
Planning has been granted for alterations to a 4-storey house in the Olympic Park's Cobham Manor estate. CAB has been developing designs for alterations to an existing 1st floor terrace.

Completion of Cedar-clad
Victorian Semi
June 2018, London

We are delighted to announce the completion of our cedar-clad Victorian semi extension. The key to the success of this scheme was to provide endless light and outlook while retaining privacy. The cedar wood vertical louvres give a sense of enclosure from the outside while light permeates easily the full length of the extension.
While the project was a complete overhaul of the old house - including a new basement and roof extension, our approach was to retain as much character and detailing as possible.
Watch this space for finished photos.

Recycled Childrens
Bunk-bed

June 2018, London
We have recently designed and built a childrens bunk bed using lost and found materials from the street. This micro project give us a new perspective on our other mezzanines we have been designing in the CAB studio.
Micro-loft Completed

February 2018, London

Our micro-loft refurbishment has been completed in Kensington and Chelsea. We designed this two bed apartment with oversize doors to give a new sense of space.

Mezzanine Gallery Completed
January 2018, London


Mezzanine completed in Victoria mansion block in Kensington and Chelsea.
Bonne Année 2018
3-storey Commercial Staircase
December 2017, London


Our three storey commercial staircase in the heart of Brick Lane has been completed. The client, a charitable organisation, needed a cost-effective solution to help develop the commercial space.
A Fairwell
February 2017,



CAB says fairwell to Leha, thank you for all your hard work
Brick Lane Shop
Alterations
December 2016, London

We have completed alterations to a Brick Lane shop, allowing the charitable landlord greater flexibility with the premses. The project needed to be finished before the busy Christmas shopping period.
New-Build Hackney

House On-site
September 2016, London

Construction to start on our new-build house on a back-land, ex-garage site in the Chatsworth area of Hackney.
London Fields House
Refurb Completed

November 2016, London
A what was once squatted and derelict Victorian terraced house in Hackney's London Fields area has been converted into two family homes.
Kennington
Side Extension
October 2016, London

Work is now completed on our side extension and full house refurbishment in Kennington. After carrying out a feasibility of extension options, we developed a scheme that retained the chimney stack, which doubled as an architectural focal point as well as providing niche storage behind. Click for more info.
Technical Design of Rooftop Penthouse Extenson
April 2016, London

We have completed the technical design of a penthouse extension in Bermondsey, London. CAB was appointed as lead consultant to coordinate structural engineers, building control and planning elements while also completing a tender process. The commercial client project managed the construction by themselves.
Rochester Concept Design
February 2015, Kent

We have completed concept design for a full house refurbishment of a Georgian terrace in Rochester. CAB carried out a feasibility of plan options.

Mews Concept Completed
November 2014, London

Our mews house refurbishment in South Kensington has just been completed.

Chinese Restaurant Completed
May 2014, London

We have completed the interior design of a Chinese restaurant in Walthamstow. We met the restaurant owner at an event organised by
The Decorators
, as part of Waltham Forest Council's
Creating A Better Place
urban regeneration initiative.
CAB Submits Scheme for Peabody Trust Competition
December 2013, London

CAB submits designs for the Peabody Trust framework competition. The proposal developed the site of an existing council-run community hall into a mixed use housing concept. The small plot is surrounded by high density council housing blocks. Our design centred around reating an illusion of space by mixing mews-type with high-rise.
CAB Wins 2nd
Place For International
Housing Scheme
April 2013, Island of St Helena


We won 2nd place in the international design competition for housing on the sub-tropical island of St Helena! Our joint proposal with
nimtim
was to create a new community masterplan centred around sustainable as well as contemporary, avant guarde building techniques.
Medieval House Converted into Social Housing
November 2012, France